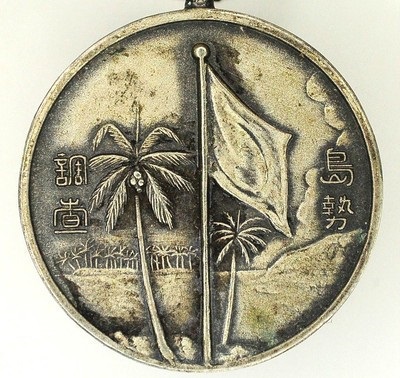 Obverse
島勢調查
- Island Census
reverse
昭和十年十月一日
- October 1, 1935
南洋廳
- Nan'yō Government /Territorial Government of The South Seas/
The South Seas Mandate, officially the Mandate for the German Possessions in the Pacific Ocean Lying North of the Equator, was a League of Nations mandate in the "South Seas" given to the Empire of Japan by the League of Nations following World War I. The mandate consisted of islands in the north Pacific Ocean that had been part of German New Guinea within the German colonial empire until they were occupied by Japan during World War I. Japan governed the islands under the mandate as part of the Japanese colonial empire until World War II, when the United States captured the islands. The islands then became the United Nations–established Trust Territory of the Pacific Islands governed by the United States. The islands are now part of Palau, Northern Mariana Islands, Federated States of Micronesia, and Marshall Islands.
In Japan, the territory is known as "Japanese Mandate for the Governance of the South Seas Islands" (
日本委任統治領南洋群島
- Nihon Inin Tōchi-ryō Nan'yō Guntō) and was governed by the Nan'yō Government (
南洋廳 -
Nan'yō Chō).​